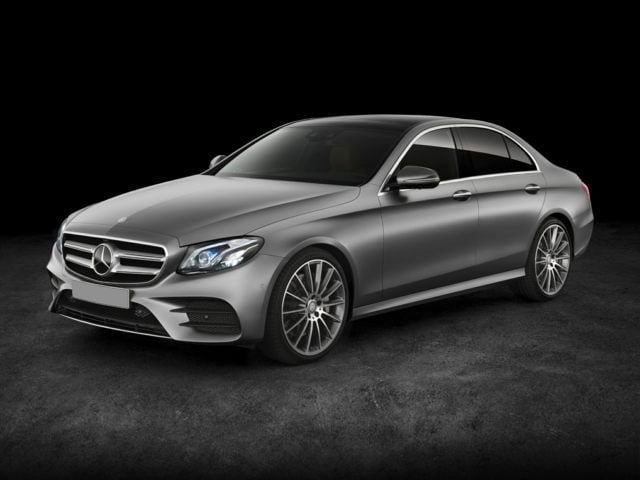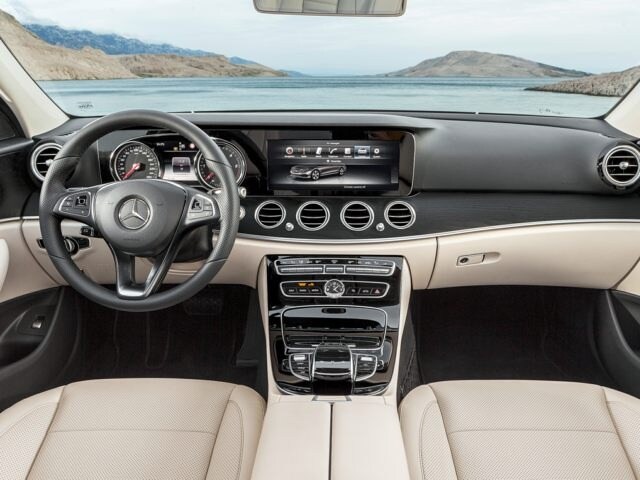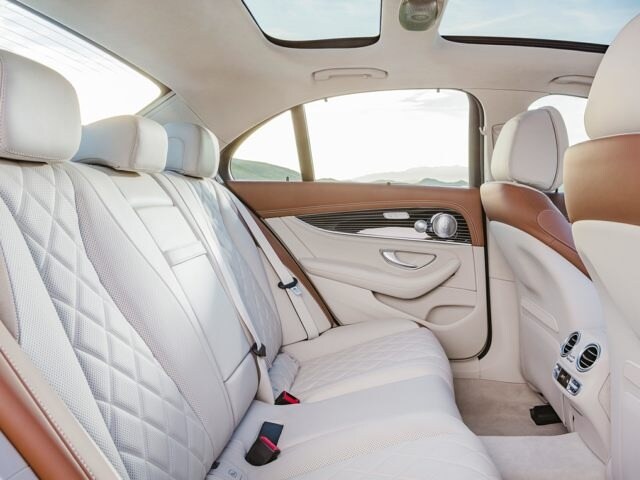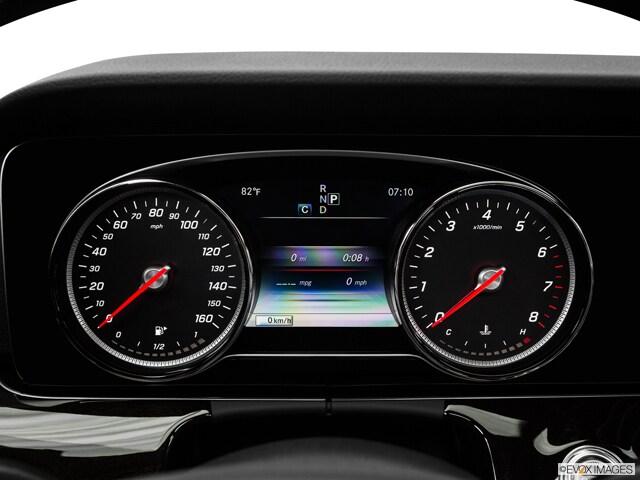 The Mercedes-Benz E-Class: A Reimagined S-Class
Mercedes-Benz is a brand full of history and a tradition of making beautiful vehicles featuring premium hand-crafted materials. With the introduction of the tenth generation E-Class, Mercedes-Benz has kicked everything up to make this the most luxurious E-Class model ever and one that rivals that of its much larger sibling, the S-Class.
Design that Stands Out
Right away you will notice the more dynamic styling than ever before. Right away the car looks much more reminiscent of the C-Class with the similar headlights, grill, and body lines. The longer hood helps to elongate the vehicle giving it a more elegant and mature design. Yet, despite this change, the athletic styling is apparent as well with the sloping roof line that further elongates the E-Class. This entire design comes together seamlessly in the rear with the rounded trunk line and smaller taillights. From afar the new E-Class helps to emit the more luxurious design that Mercedes-Benz was aiming for.
The luxurious feeling has been taken to a whole new level on the inside of the new E-Class. Beautiful synthetic leather seating comes standard, but with real leather seating and Nappa leather seating optional, this E-Class can become something entirely different. The seats support you through turns and make driving a pleasure with large bolstering and ample cushioning. Combine those with optional heated and ventilated front seats and you will always enjoy first-class comfort.
The cabin is extremely reminiscent of the Mercedes-Benz S-Class with the large dual 12.3 inch displays, one in the center and one in place of an instrument cluster. This gives you access to all of functions necessary while driving. The physical buttons that are placed lower make for easy access to navigation, radio, and other systems without using the rotary dial. The clean design and smart integration of technology help to bring this car into a new level of luxury.
Staying Safe with Ease
Delaware drivers near Wilmington, and Talbot County, Maryland can explore this advanced sedan at i.g. Burton & Co. Inc. in Milford. The Mercedes-Benz E-Class that keeps you comfortable, engaged, and protected each point in your journey. Features like PRESAFE® functionality, a sweeping cabin, and impressive powertrain capabilities.
When the unexpected occurs, PRESAFE® sound emits a safe "pink noise" in the case of an accident to defend against the loud sounds of a collision. PRESAFE® Impulse Side is an industry-leading safety features that prepares you and your passengers for an impending impact. Impulse Side rapidly inflates the front-seat bolster to reduce the forces of an impact. Active safety functionality, another way that Mercedes-Benz raises the bar in its vehicles. 
Performance to Blow you Away
Helping to make this E-Class go is a 2.0L inline-4 turbocharged engine that creates 241 horsepower that gives you plenty of power. All of the power is channeled through the new 9G-Tronic nine-speed automatic transmission that helps to make the car more efficient while still retaining plenty of power. Furthermore you can enjoy the added stability and capability that the optional 4MATIC® All-Wheel Drive system that will help keep your car planted to the pavement. Mercedes-Benz showed the world once again why they are one of the innovators in the luxury segment with the new Mercedes-Benz E-Class.
Whether you're making a short trip down the street or down the interstate, the E-Class sedan pairs power with sophistication with a E 300 turbo engine and nine-speed transmission create a fuel-efficient and responsive driving experience. Drivers can rely on the performance of the E-Class sedan in all-weather conditions with optimized traction and multiple driving modes. From Sport to Eco, drivers can select the driving style they want with power they can depend on.   
If you are the market for a new, top-of-the-line luxury sedan come on over to i.g. Burton& Co. Inc. in Milford, DE where we proudly serve drivers from Talbot Country MD, Dover, and Wilmington DE. Here you will find a knowledgeable staff who will help you find the new 2018 Mercedes-Benz E-Class of your dreams.
Make an Inquiry
* Indicates a required field

Peruse our Inventory of E-Class Vehicles
The 2022 Mercedes-Benz E-Class is one of the most versatile vehicles on the market as Talbot County, MD residents can purchase this car as either a sedan, wagon, coupe, or convertible. Mercedes-Benz has done an excellent job of making this midsize luxury car feel new, thanks to its refreshed exterior and restyled cabin. To get your hands on this luxury car, visit i.g. Burton & Co. Inc. today.
Highlights of the E-Class Vehicles
Because the Mercedes-Benz E-Class of vehicles can come in multiple styles, they also have multiple trims and powertrains.
E 350: This vehicle is offered only as a sedan and is powered by a turbocharged 255 horsepower 2.0-liter four-cylinder engine.
E 450: Offered as a sedan, wagon, coupe, or convertible and is run by a turbocharged 3.0-liter 362 horsepower six-cylinder engine paired to a mild hybrid system.
AMG E 53: Offered as a sedan, coupe, or convertible, this vehicle utilizes a turbocharged six-429 horsepower six-cylinder engine.
AMG E 63 S: Offered as a sedan and wagon, this trim uses a turbocharged 603 horsepower 4.0-liter V8.
As for features, each E-Class trim has most of the same. Therefore Dover and Wilmington, DE, drivers will experience amenities like a sunroof, 12.3-inch touchscreen, leather upholstery, blind-spot monitors, automatic emergency braking, adaptive headlights, and more.
Schedule a Test Drive
With so many features and configurations for the Mercedes-Benz E-Class, it can be tough deciding which trim or design is right for you. To help our Salisbury, MD, customers narrow down their options, test drives are always available. To schedule a test drive, you can use our site or set one up over the phone. We also provide an online finance application for anyone who wants to get pre-approved for a loan before they arrive.
And if you have any questions about the Mercedes-Bens E-Class of vehicles, the services we provide, or our Milford DE, feel free to reach out. We're here to help.