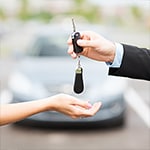 Every member of our team at i.g. Burton & Co. Inc. wants you to be an informed car buyer when buying your next vehicle. Buying a used car can be tricky at times because you don't really know what you're getting. We've put together some helpful ideas on buying a used car. For more information, stop and see us.
• Choose a vehicle that meets your needs and driving habits.
• Know how much you can afford to spend ahead of time.
• Bring along a friend to help inspect the vehicle.
• Obtain a Carfax vehicle history report so you know the history of the vehicle.
• Try to negotiate the best price even if you're told it's the lowest they can go.
• Take the vehicle for a test drive.
We're always available to help you, whether it's answering automotive questions or setting up test drives. Whatever your needs may be, allow us to help you by stopping at our Milford dealership.