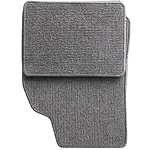 Choosing the right floor mats for your vehicle is essential. A good mat will enhance interior aesthetics while additionally offering reliable protection. Milford locals can choose from a vast range of all-weather and carpet mat designs. At i.g. Burton & Co. Inc., we want to make it easier for drivers to find the best accessories for their needs.
Take Stock Of Your Lifestyle And Environment
Much like their name suggests, all-weather mats are made to stand up to all types of outdoor elements and temperature extremes. If you live or work in a perpetually rainy region or you're constantly moving through muddy job sites, you'll definitely want a heavy-duty rug design. The durable, all-rubber construction of all-weather mats makes them both ideal flooring protection and incredibly easy to clean.
Get The Perfect Aesthetic For Your Auto Interior
Some drivers want their protective floor mats to blend seamlessly into the existing flooring. With carpet mats, this is entirely possible. You can order your carpet mats in the perfect hue for achieving this look. Conversely, rubber mats are typically available in a much more limited range of colors. Shop at i.g. Burton & Co. Inc. to access an impressive inventory of high-quality auto accessories and to get more tips on finding the right products for your vehicle.